The latest 13th Generation version of the TX-Series Fanless PC is now available.
The TX-Series is an excellent general-purpose fanless PC. The solid aluminium case has long cooling fins and no air-inlets, which enables it to be used in heavy-duty business and industrial settings. It has enough power to be used as a compute engine or for driving a pair of 4k@60fps displays.
The i7 uses the latest "Intel 7" hybrid architecture with 16 cores, using a combination of 8 Performance-cores and 8 Efficient-cores. The i5 uses 6 Performance-cores and 4 Efficient-cores.
Various options for fast SSDs are available, including top end Samsung 980 PRO models which can achieve up to 7000MB/s read & 5000MB/s write speeds. We include an aluminium cooling block for the SSD that enables it to be used intensely without thermal throttling.
As well as a cooling block for the SSD we now include a cooling block for the VRMs (Voltage Regulators) to lower motherboard temperatures and improve stability and reliability.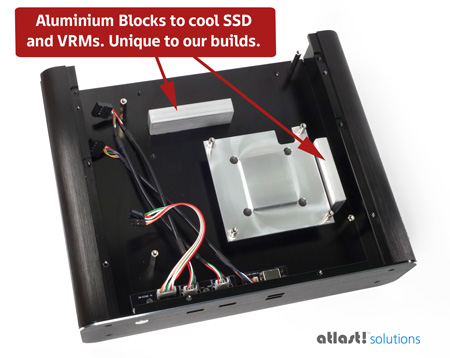 Recent Posts
We now have the option to install the JCAT USB Card Femto in your Sigao PC, enabling Audioph …

You can now add dual 10GbE ethernet ports when you order a Sigao B i9 Fanless PC. The intel X550-T2 …

Now available, the latest NUC 13 Pro - i7 version - in 2 new fanless cases.These are powerful mini P …